Thalia – our gift to the planet this festive season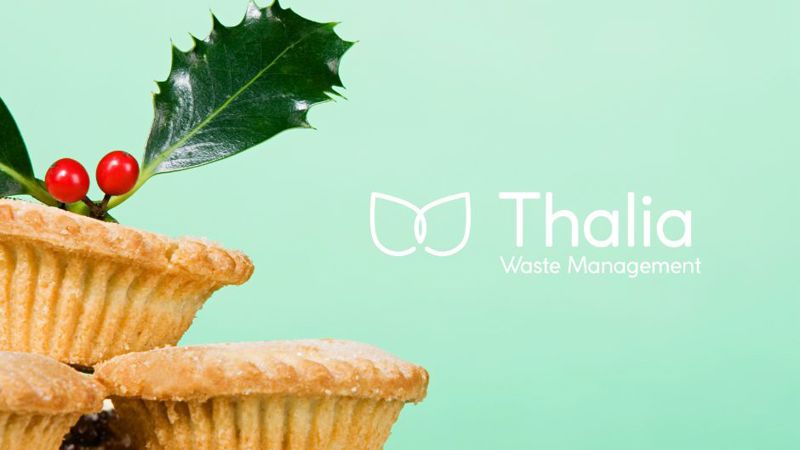 This year everyone is invited to join us in giving back and saying thanks to our planet this year, as we celebrate '12 days of Christmas' the Thalia way. 
Let's all think about the three 'Rs' when it comes to Christmas and our festive waste- #reduce #reuse #recycle. 
Each of the 12 days will explore a different topic to educate, signpost and raise awareness. 
Follow the campaign on Thalia's facebook page - @ThaliaWaste 
Paco Hevia, Thalia Waste Management Managing Director, said: "Christmas is often a time for indulgence and swapping presents. But it also means we create more waste, a lot of which can be recycled or reused.    
"We're already a nation of recyclers but this year, let's give the planet a gift by reusing or recycling as much as we can.      
"It is also an opportunity for people to choose more sustainable options and reuse and recycle more effective." 
 Here are our tops tips on what to do with your festive waste 
Day 1: Understand the reality of festive waste 
75 million edible mince are thrown away each year   

 

Every Christmas, 3 million tonnes of rubbish is thrown away in the UK

 

1 billion Christmas cards are sent in the UK, roughly 17 per person   

 

We get through 750 million bottles and 500 million drinks cans over Christmas, that's 30% more than at any other time of the year     

Every year in the UK we use roughly 227,000 miles of wrapping paper – over nine times the circumference of the earth 

 
(Figures courtesy of Let's Recycle and WRAP).   
Day 2: Polysterene and bubble wrap 
You may enjoy popping it, but neither of these are recyclable. This goes in your waste bin or to your Household Recycling Centre. 
Tip: Buy local and support your community shops. Locally made items tend to have less packaging and less 'shopping' miles. 
Day 3: Consider giving back and donating to charity 
It could be through donating items or simply your time. Here at Thalia, we've teamed up with Stand4Socks. They donate socks to homeless charities across the world, including the UK. Stand4Socks have now donated over 150,000 pairs of socks to vulnerable people in need. Hop over to their website and find out more about this great project: https://www.stand4socks.com/ 
Day 4: Getting crafty with cards 
Send E-cards instead this year or choose recycled cards. Old greeting cards can make brilliant sustainable gift tags – simply cut out into rectangles and write your message on the back.  Why not get the children involved as a Christmas activity? 
Country Living has some great ideas for upcycling old cards – get some inspiration here 
Day 5: Conquering cardboard 
Ordering goods online is more popular than ever. It also means more packaging.  
Boxes or envelopes made from corrugated cardboard are widely recycled by local authorities across the UK in your recycling collection or can be taken to your local Household Recycling Centre. Remember to remove any plastic or polystyrene inserts and excess sticky tape (currently unrecyclable so pop in your general waste). 
Day 6: Get Christmas wrapped up 
Any wrapping paper with glitter or ribbons can't be recycled.  Reuse old wrapping paper again or buy recycled wrapping paper.  Why not ditch the wrapping paper and be really sustainable? Old comics, magazines or calendars make great wrapping paper.  Try the scrunch test! Scrunch your wrapping paper into a ball. Stays scrunched? Recycle it. If not pop it in your waste bin. 
Day 7: Recycle your empties 
All your glass can be recycled, whatever shape or size; bottles and jars. Just give them a quick rinse and put the lid or cap back on before recycling.  
Glass such as pyrex, oven-proof glass and drinking glass are manufactured to withstand higher temperatures. They can't be recycled in the same way as bottles and jars. Take to your Household Recycling Centre or wrap carefully and pop in the waste bin. 
Day 8: Magical metal 
Metal can be recycled again and again without losing quality. It becomes new metal products.  Don't forget your mince pie cases and tinfoil. Rinse out food residue, scrunch up to save space and then recycle. 
Day 9: Eat, drink and recycle 
We generate a lot more food waste at Christmas so make sure it all goes in your kitchen caddy. Visit love Food Hate Waste's website for top tips on reusing your leftovers and lots of scrummy Christmas recipes. 
Day 10: Crush plastic recycling 
Drinks bottles, cleaning products, toiletry bottles can all be recycled. This includes those Christmas chocolate plastic tubs! Don't forget to empty, rinse, crush and also replace lids before recycling. Remove pump dispensers and trigger sprays first as these aren't recyclable. 
Day 11: Buy local 
Buy local and support your community shops. Locally made items tend to have less packaging and less 'shopping' miles.  
Day 12: Batteries 
All those new toys and gadgets mean more batteries to recycle. Some local authorities collect batteries bagged separately to the rest of your waste. There are also many battery recycling points in local shops. Otherwise bag separately and take to your local Household Recycling Centre.    
Don't put household batteries loose in your waste – they can cause a fire on collection lorries or at the waste treatment site as they can get punctured, squashed or shredded.