Blooming into Spring: love your garden, yourself and the planet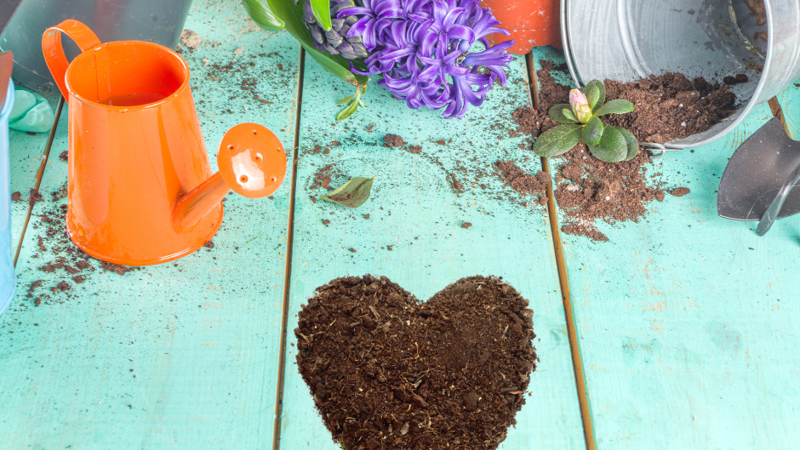 Spring is the perfect time to rejuvenate, refresh, and start anew. 
With the warmer weather and longer days, there's no better way to boost your mental health than by spending time in your garden or an outdoor space.  
By incorporating food waste, recycling, and reusing waste items in your gardening routine, you can improve your mental health and reduce your impact on the environment.   
Studies have shown that spending time in nature can reduce stress, improve mood, and increase overall well-being. Whether it's planting flowers, growing your own food, or simply sitting outside and taking in the sights and sounds of nature, a little time in the garden or an outdoor space can go a long way. 
 
One effective way to make the most of your gardening experience is by composting food waste. By keeping food scraps out of the landfill and turning them into nutrient-rich compost, you can help reduce your carbon footprint and create a healthier soil environment for your plants. 
For example, food waste can be composted and used to enrich the soil and grow healthier plants. Items such as wine corks, coffee grounds, and eggshells can also be used in the garden as natural fertilizers. 
By properly sorting and recycling household waste, you can help conserve resources and reduce the amount of waste sent to the landfill. And by reusing waste items in the garden, you can reduce the need for commercial fertilizers and create a healthier and more sustainable outdoor environment. 
 
So this spring, love your garden, love yourself, and love the planet by incorporating food waste, recycling, and reusing waste items in your gardening routine. It's a simple step towards a better mental state and a cleaner, greener future. 
Here's our top tips to get you blooming this spring 
Rejuvenate 
Get outside: being in green open spaces can improve mental health, focus and concentration.

 

Why not set up a community gardening group – The RHS has some great tips

here.

 

Free seeds!

Gardeningetc.com 

has a great article on ways to get free seeds to get your garden growing.

 

 
Reduce 
Reduce the amount of fresh food you buy: try growing your own. Check out The Soil Associations guide to

growing at home

.

 

Avoid cut flowers and give your mum a Mother's Day gift that will last – consider spring bulbs or a tree sapling that will bloom for many Springs to come.

 

Shop local, shop savvy: Buying local supports the community, reduces harmful CO2 emissions, and produces less waste.

 
Reuse 
visit Love Food Hate Waste's

website

for simple recipes to use up your leftovers.

 

Plastic Self watering bottle plants

 

Eco plant pots from paper 

 
Recycle 
Compost:

why not try setting up a compost bin to recycle your leftover food and garden waste and nurturing your garden. Bird Charity RSPB has some great

advice

to get you started

 

Yogurt pot herbs:

make a windowsill herb garden by rinsing out your yogurt pots, adding compost and add herb seedlings. Save money on shop bought herbs and add flavour to cooking at the same time.

 

-

Self-watering bottle growers:

watch this simple video to see how you can take the hassle out of watering your plants

here

 

 

-

Newspaper eco plant pots:

Find out how to make simple eco-friendly plant pots from newspaper over on Thrive.org.uk's

website